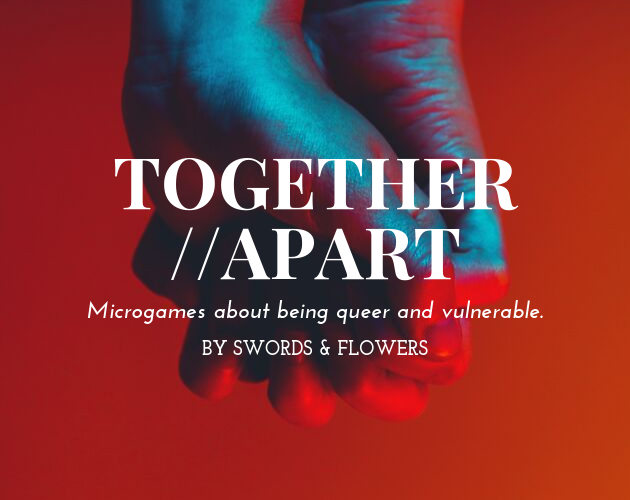 Together // Apart
Together // Apart: Starting the Community Copies Initiative!
---
Hey everyone! Together // Apart is now officially part of the Community Copy Initiative!

Always wanted to get your own microgame collection to be queer, soft and vulnerable but no budget? No problem! Now, you can get access to free community copies of Together // Apart with every purchase made by someone else!

Always wanted to help get this game into more queer hands outside of yourself? You can do that too - every purchase you make gives someone else the chance to grab a community copy!

***


Together // Apart has been getting a lot of attention lately, especially from queer and marginalised space - and I couldn't be happier! Together, the first of three microgames in this collection, was first conceived years ago when I was still coming to terms with being bisexual. Then, it was finalised in this year's Pride with words of encouragement from wonderful, queer friends as a submission to Pride Month: Tabletop Gaymes.

Recently at Big Bad Con 2019, a meet with Avery Alder - one of my biggest inspirations in tabletop game design - gave me a chance to hand her a copy of Together // Apart. This led to her tweet speaking about the game, and it's gotten even more attention since then. This attention has especially reached a lot of queer folks, queer folks who want to play Together // Apart with their friends, partners or themselves. <3 In light of this new demand, it felt like a good time to launch and try out community copies on Swords & Flowers. The confidence and love I have my own queerness and vulnerabilities would not be here today without the people around me. Queer folks need each other for support, resources, and learning - and this is my way of keeping that cycle alive!
Together // Apart will be starting off with fifty whole copies open to all in the community - especially those who are queer and marginalised. I'll be regularly topping this up whenever a purchase is made, and when I have time! Aside from this, you can still DM me on Twitter for download keys if you're queer - @SwordsnFlowers, no questions asked! I'm aware some might not want to diminish the community copies for others - so I'm keeping my channels open for everyone still. <3
That will be all for now! Be safe out there, love yourselves and the folks around you with strength.