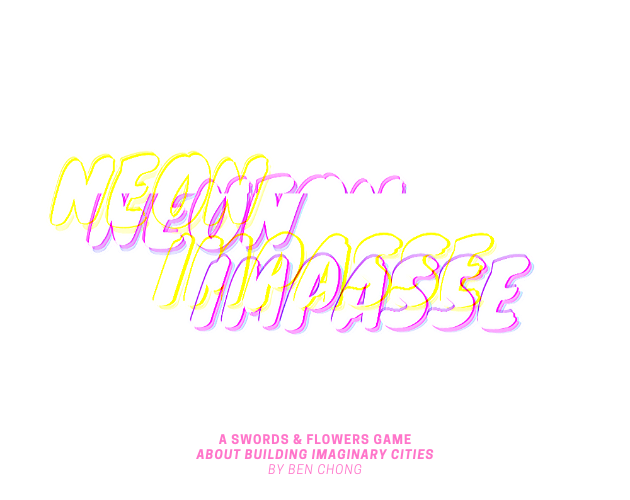 Neon Impasse
A downloadable city-building ttrpg
This is a game about imaginary cities.
It is about the places we travel in our dreams.
It is about the stories we hope to touch.
It is about the people, outside our reach.
This is a game about reaching those places.
It is about trust - let the game take your hand.
It is about imagination - let your mind wander.
It is about letting go - never look back.
✨🌆✨
NEON IMPASSE is a gmless city-building rpg collection about exploring imaginary cities, freedom, and transitions. It is a collection of games dedicated to the relationships and connections we form around stories and spaces we acquire from others. You will visit The City, an alternate space that is as alive and vibrant as it is dark and hungry, and document those adventures.

You will walk through its strange streets, meet its denizens, and capture the myths wonderful and dangerous in your head.

Neon Impasse comes in a 54-page PDF for ease of use. In it, you will find:
A collection of 12 unique games about building and exploring the City - all interlinked with each other.
Accompanied by vibrant, evocative art in every chapter to light the way.
Generators and inspirations to help kickstart your own unique City. Explore the black, asphalt carapace of a slumbering beast, or navigate your way through hidden, magic worlds.
A game that lets you blend imagination with reality, and touch it. Play Neon Impasse during sunset with music in your ears, document your journeys with pictures, and watch as the City comes alive.
Neon Impasse can be played solo or with a group of any comfortable size, and may last between a few minutes to months
Neon Impasse was made for #ReCo2K20, the game jam about music albums. Neon Impasse is based on the eponymous album, Neon Impasse by City Girl.

Purchase
In order to download this city-building ttrpg you must purchase it at or above the minimum price of $9.99 USD. You will get access to the following files:
NEON IMPASSE v1.pdf
134 MB
Exclusive content
Support this city-building ttrpg at or above a special price point to receive something exclusive.
Community Copies
Each copy of Neon Impasse purchased helps someone else grab a free copy when they can't afford its listed price - this especially goes for those in queer or marginalised communities. If you're unable to afford the cost of this game, please claim one of these community copies instead!
If you have claimed a community copy, please consider - but don't feel obligated - taking a moment to review, comment, or leave a rating to help boost the game's visibility.

Comments
Log in with itch.io to leave a comment.
City-pop coming to life as an exploratory experience. Amazing stuff!