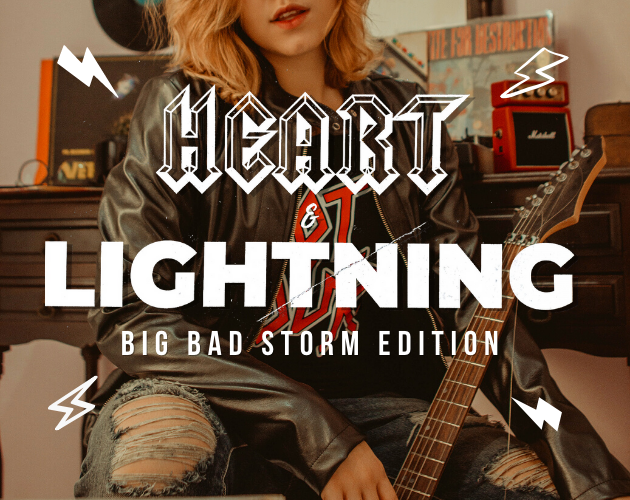 Heart and Lightning
A downloadable sword & sworcery rpg
You are Daughters of Lightning, a rider of storms, and breaker of mountains. You are warriors, lovers, and legend.
You are also teenagers.
Barely of age for the throne, you have been kicked out of your immortal homeland and stripped of your powers for another one of your stupid (brave!) antics (deeds!!!).
As outcasts, you must work together, prove yourselves, and return home.
⚡⚡⚡
HEART & LIGHTNING is a rock-inspired, sword and sworcery tabletop roleplaying game about teenage gods, rebellion, and the troubles they get into.

Play as the Daughters of Lightning, almighty children who embody storms, its power, rage and tenacity. Stubborn and young, you've recently been evicted from your heavenly home and must complete a quest to return.

This game is currently still in development, but for now consists of a 70-page mostly Player's Side booklet which includes:
⚡ Character creation rules to create your very own Daughter of Lightning. Pick from a variety of Mythic archetypes like The Redeemed, The New, The Quiet Before The Storm.

⚡ Wield your godly powers with Domains and Talents. Change your form at will into beasts, instantly capture the hearts of those who lay their eyes on you, or call down a lightning strike.

⚡ Heart & Lightning rules that let you play and resolve tasks with either your emotions or ALMIGHTY STRENGTH. Use Pain, Hype, & Glory to see how you approach your problems: Will you rely on connections, noise, or power?

⚡ New and improved combat rules. Beat your foes into submission, or try to hold back so they don't immediately perish from your godly strength.
⚡ Factions for the Daughters of Lightning to interact and face against. Throw at them a host of cool and interesting NPCs; fight off Mooks and Bosses from the ambitious Humans, disgusting Wizards, to the most cunning of Demons.

⚡ Additional rules for creating intense drama and endings in your next game session. Break hearts, destroy the things you love, and discover how much being a teen god can suck.
⚡⚡⚡
💖 ACTUAL PLAYS 💖

⚡⚡⚡

Coming up soon:
⚡ A GM's Side to pair up and complete the game!

⚡ Use tables and rules to generate unique quests, sisterly drama, and heartbreak.

⚡ Cool, new sample adventures to get you started into the game quick and easy with minimal to no prep!

Purchase
In order to download this sword & sworcery rpg you must purchase it at or above the minimum price of $20 USD. You will get access to the following files:
HEART & LIGHTNING - Big Bad Storm Edition, v1.2.PDF
34 MB
Comments
Log in with itch.io to leave a comment.
Am I completely blanking out on where the character sheet is for this?
You're not! The Character Sheets are going to be released in its next update! Missing detail on the main page.