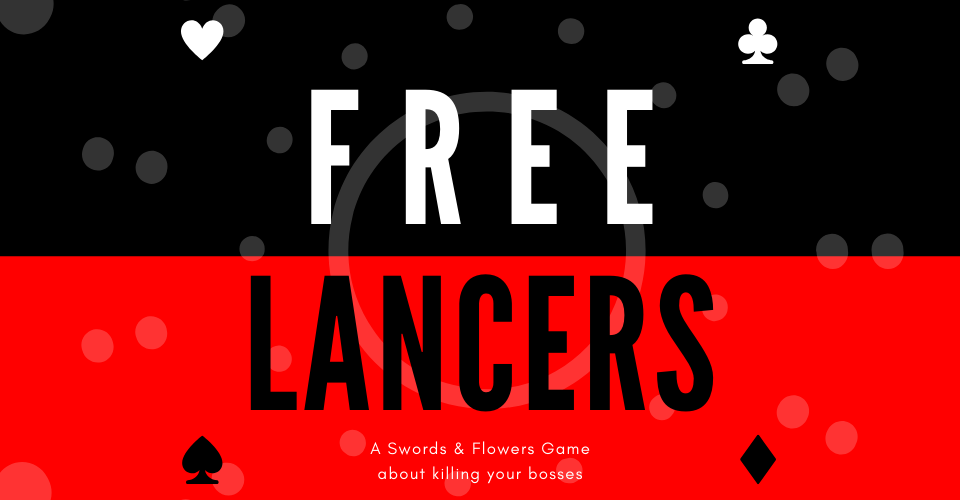 Freelancers
A downloadable Bosskiller RPG
"We have worked hard,
and we want our piece."

♦♣♥♠
FREELANCERS is a tabletop role-playing game about wants and needs, relationships, our communities, and the systems we live under.
It is a game about killing your bosses and seizing power.
To play a game of FREELANCERS, you will need:

Friends and strangers to play this game with; 3-4 is recommended.

A standard deck of cards.

Something to keep notes with, like pencils and paper.

A spirit of compromise and cooperation, until it runs out.

A safe and comfortable place to play.
In this 10-page RPG booklet, you will:
Reclaim your labour and kill your Boss. Plot schemes, sabotage and power plays with your respective Freelancers and their Factions to bring them down in a highly accessible tabletop roleplaying game.
Choose or create your own unique settings to play in. With EIGHT original Factions for you to play as immediately!
Create your own Freelancers with their own unique histories and details in a quick-and-easy, questions-driven system.
Explore your journey together against your Boss with a unique card-driven roleplaying system which operates on forming hands, answering prompts, narrating scenes of community, strife, and rebellion.
Hijack and intervene on each other's actions to reap the benefits for your own Faction instead. Secure yourself a seat at the negotiations table after your revolution is said and done.
♦♣♥♠
FREELANCERS was made in tribute of May Day, Labour Day and International Worker's Day 2020. What started as a simple idea became a full-blown exploration on what it means to come together against the people who exploit the vulnerable for profit.

FREELANCERS is available entirely free to queer, marginalized and vulnerable indviduals. If the price is a hardship for you, please DM me on Twitter @SwordsnFlowers and I'll get you a download key, no questions asked!

Purchase
In order to download this Bosskiller RPG you must purchase it at or above the minimum price of $6 USD. You will get access to the following files: