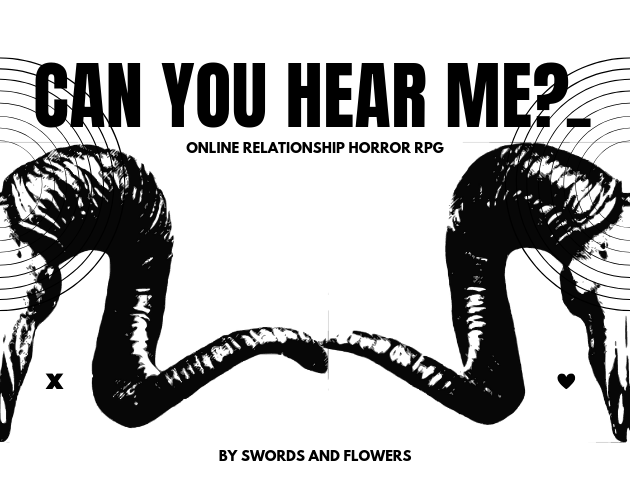 Can You Hear Me?
A downloadable horror RPG
"You met your Match online. Two lonely souls connected by signals flying through the warm night. They seem cute. They think the same about you too. You connect a little bit more.

You think there's hope in this one yet - there's an open spot on your calendar next week.

A week later, when your skin is peeled and stolen, they pay you a compliment."
• ◦ • ◦ • ◦ •
You are alone and looking for a date on Matchmaker - an online dating platform for complete strangers to meet each other. But strange things have found themselves a home in this anonymity. The Goatmen lurk online; skin-wearing, human-seeming mimics looking for their next meal and outfit. Stranger still are the Hunters here to sniff them out.
So beware! Scope your matches out, chat them up, and make sure your date doesn't end up with your skin on the floor.
• ◦ • ◦ • ◦ •
Can You Hear Me? is a roleplaying game of online relationship horror. In it, you take on the role of lonely humans, the cold Goatmen, and brutal Hunters seeking each other out online. The game is played between 2 players with deception and 5-minute conversations. In this black-and-white rulebook, you will find:
Instructions on how to play the game. Go online together and meet your horrifying Match.
Role Sheets on how to play the Human, Goatman, and Hunter. Draw random roles each game and learn to achieve your objectives - get that hot date.
Rules for THE CHATROOM: ask each other questions to sniff out if your Match is hottie or horror, and END CALL to make a decision.
All this in a sweet, slick black-and-white 8-paged booklet accompanied by illustrations, easy-to-read layout, and recommendations on safety tools before playing!
• ◦ • ◦ • ◦ •
Coming soon:

Multiplayer options. Find love and tension in the GROUPCHAT.

New Role Sheets! Beware the Creeper, a conspiracy agent obsessed with the Goatmen.
CAN YOU SEE THIS? An all-new gamemode that's played entirely online or with your phones! Bring your sexy Goatman out of meatspace and into true, online horror.
- and more!
• ◦ • ◦ • ◦ •

Heavily inspired by Inhuman Conditions, the deception game of cops and robots.
Made for Hot Horror Jam 2019.

Purchase
In order to download this horror RPG you must purchase it at or above the minimum price of $3 USD. You will get access to the following files:
CAN YOU HEAR ME v1.pdf
372 kB